CCCMA Members, as Veterans Day approaches, the Colorado Veterans Leading Government (COVLG) sub-committee of CCCMA would like to take a moment to thank all those who have served in America's armed forces.  As a committee, we discussed what we could do to show our appreciation for those who have served our military, and, overwhelmingly, the response from veterans in the COVLG was, "Thank our service with your service!"   With this in mind, the COVLG is pleased to announce the first annual, CCCMA Month of Service event in 2023!
This November, the Colorado Veterans Leading Government is encouraging all CCCMA members to get out and do something in service to your local community. Anything will do! Just take some time to get out and serve and improve your part of our amazing Colorado!
While you are out there serving, we ask that you print out and take a photo with a "CCCMA Month of Service" flyer that is found below. Then, send that picture of you and/or your group back to CCCMA at maryann@coloradoccma.org.  The COVLG will take those photos and post them as a collection of CCCMA members and families doing their part in the spirit of veterans service and Veterans Day!
Thank you,
John Trylch, COVLG Chair
CCCMA Members Month of Service
Mary Ann at the at the Letters from Santa Workshop
for Critically Ill Children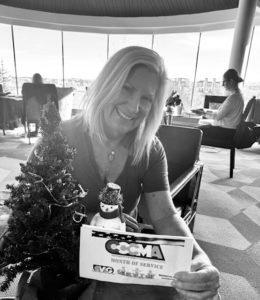 John at the Care and Share Food Pantry donating canned goods for Thanksgiving!
Don spoke at a Veterans Day event at the Broomfield Veterans Museum where everyone was welcomed with coffee and snacks along with tours of the museum.